Trisha Yearwood Says She's Done With Bodysuits After Wardrobe Malfunction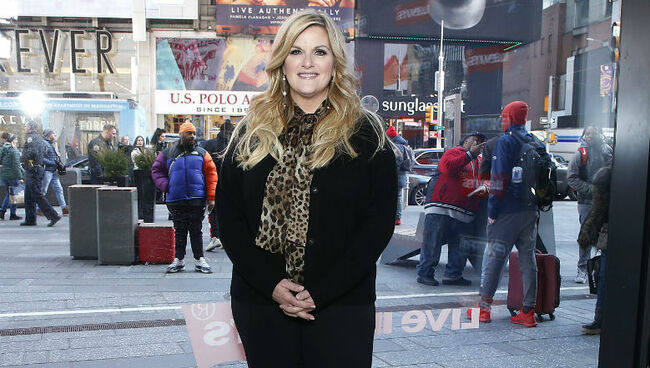 Don't ever expect to see Trisha Yearwood rock a bodysuit after the country titan experienced a major wardrobe malfunction in front of an audience of 16,000.
Speaking with PEOPLE, Yearwood explained that the situation occurred while she was on-tour with her husband, Garth Brooks, while wearing a three-snap bodysuit underneath a skirt. "I walk out on stage and I feel one of the snaps pop, and I'm like, 'Okay, I got two more,'" the country veteran recalled of the past incident. "I took another step or two, second one snaps. And by the time I get on stage, the third one has snapped." Thankfully, the Trisha's Southern Kitchen host walked away from the situation without any major reveals. "I just did my show and when I left stage I was like, 'Oh my God, my bodysuit — I'm never wearing another one of these in my life!'" she admitted. "I don't even remember my performance because I was just so worried about my clothes. No more bodysuits for me; I'm done with that." Yearwood toured with Brooks from 2014 until 2017, hitting almost 400 stops and selling over six million tickets.
While Yearwood won't be seen in anymore bodysuits, fans can expect more from her new cover project, Let's Be Frank, her first studio album in more than a decade. The LP features a number of her favorite Frank Sinatra songs, which she recorded with a with an orchestra using Sinatra's microphone at the iconic Capitol Records building in Hollywood. "I've been wanting to make this record for 20 years!" she said in a statement in November. "I have always loved standards, and nobody sings them better than Sinatra. I'm honored to get the chance to pay tribute to him and the songwriters in these timeless classics."
Earlier this month, Yearwood celebrated her 20th anniversary as a Grand Ole Opry member with a special presentation from Emmylou Harris and several messages from her closest friends. Click here for some hot shots the star-studded event!